A
200mm missile container is an ammunition item. It is used to supply Rocket Launchers so that they can be fired; this can only be done through full-size conveyor systems. If "Cargo Ships" are enabled in Survival mode, these can be found randomly generated in the cargo containers of the various Military ships.
Stable Version 157013 has made 200mm missile container significantly cheaper. Reducing the price of missile container by slashing the

Magnesium Powder, and

Platinum Ingot by more than half. Regardless, it is still the most expensive and time consuming ammunition type to make given that it costs

Uranium Ingot and platinum to produce 1x 200mm missile container. But, if it's firepower you want the 200mm missile container does mighty damage against most blocks.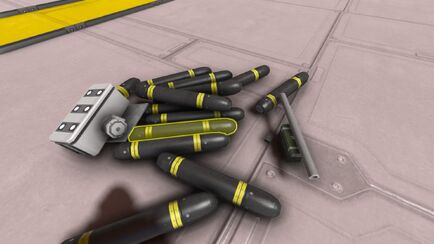 Assembly
The 200mm missile container can be produced from an Assembler supplied with the following materials.
Ad blocker interference detected!
Wikia is a free-to-use site that makes money from advertising. We have a modified experience for viewers using ad blockers

Wikia is not accessible if you've made further modifications. Remove the custom ad blocker rule(s) and the page will load as expected.