Connector

---

Category:
Functional Block
Status:
Functional

---

Function:
Pulls items from attached inventories and ejects them into space.

---

Fits small ship
Mass:
693.2 kg
Capacity:
1,152 L
Power:
50 W

---

Fits large ship and station
Mass:
3,596 kg
Capacity:
8,000 L
Power:
-5 kW

---

Data Controls:
[edit] [purge] (?)
The 

Connector is a block in Space Engineers.
The primary purpose of the Connector is to form a temporary connection between the conveyor systems of two ships or stations. When two Connectors come within proximity, the 'x' will turn yellow. If the Connectors are then locked (using the Control Panel or by pressing "P") the "x" will turn green and the connection is established. The connected systems then share electricity, control and inventory. Blocks within either conveyor system can then make push and pull requests as though they were one ship. Players can access the terminal and inventories of ships connected to theirs in this way.
The Connector can also be used to release objects into space from a ship's inventory. The indicator on the side of the block will display a red 'x' when the space in front of the connector is blocked by items. When this is the case, the Connector will not throw any more items out.
The combination of these two functions can eliminate the need to manually empty containers and move items by hand.
Inventory
Edit
With Realistic settings, the Connector has an inventory with a capacity of 1,152L on small ships and 8,000L on large ships and stations. The inventory accepts all items, allowing the transfer of all manner of goods.
If attached to a conveyor system, the container is flagged to receive pushed items from other blocks. It will pull items automatically from any directly-attached inventories when active.[1] However, Connectors cannot automatically transfer items between two connected ships without jettisoning the items into space, and using a Collector to catch them. If you are only using two Connectors, you must manually drag-and-drop items between adjoining ship/station inventories.
Conveyor-Connector System
Edit
With update 1.036 ships can use connectors to connect with other ships or with stations. Items will only be transferred if the connector receives a pull-request from one side of the Connector-Link:
Welders can pull needed components from containers over a connector-Link automatically by sending a pull-request.
Grinders or Drills can't send gathered components or ores to containers over a connector-Link and containers won't send pull-requests. (Drills seem to empty their inventories to cargo containers if full, at least if there is refinery without space for ores in the same conveyor network)
Conveyor Sorters can send a more 'manual' pull request by enabling the 'drain all' function. Connectors cannot be used to automatically 'dump' items on their own.
The Connector consumes 50 W when attached to small ships and 5 kW when attached to large ships or stations. This value is the same regardless of whether or not there is work to do.
Previous to version 01.046 there was a bug that made connectors work even when unpowered. Version 01.046 fixed this bug and in all versions after you must supply power to connectors in order for them to function.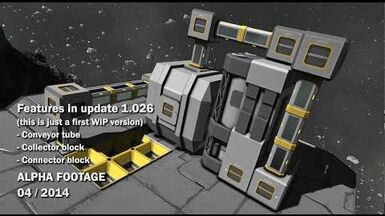 Blocks
---
Functional Blocks
Cockpits & Control


Cockpit,

Fighter Cockpit,
Control Station,

Flight Seat,

Passenger Seat,

Control Panel,

Button Panel,
Remote Control Block
Automation & Communication


Antenna,
Beacon,
Camera,

Laser Antenna,

Ore Detector,
Programmable Block,

Sensor,

Timer Block
Defense

Decoy,

Gatling Gun,

Gatling Turret,
Interior Turret,
Missile Turret,
Reloadable Rocket Launcher,

Rocket Launcher,

Warhead
Energy

Battery,
Large Reactor,

Small Reactor,

Solar Panel
Maneuvering


Gyroscope,

Large Thruster,
Small Thruster,
Wheel Suspension 1x1,
Wheel Suspension 3x3,

Wheel Suspension 5x5
Mining & Manufacturing


Arc Furnace,

Assembler,

Drill,

Grinder,

Refinery,

Welder
Storage

Large Cargo Container,
Medium Cargo Container,

Small Cargo Container
Inventory Management


Collector,

Connector,
Conveyor,
Conveyor Frame,

Conveyor Tube,
Curved Conveyor Tube,

Ejector,

Small Conveyor,

Small Conveyor Tube,

Small Curved Tube
Mechanisms & Gravity Control


Advanced Rotor,

Rotor,

Piston,

Landing Gear,

Artificial Mass,

Gravity Generator,

Spherical Gravity Generator
Lighting


Interior Light,

Spotlight
Other


Door,

Merge Block,

Medical Room
---
Removed Blocks
Ad blocker interference detected!
Wikia is a free-to-use site that makes money from advertising. We have a modified experience for viewers using ad blockers

Wikia is not accessible if you've made further modifications. Remove the custom ad blocker rule(s) and the page will load as expected.