Cryo Chamber

---

Category:
Functional Block
Status:
Functional

---

Function:
Where a player's character stays while offline

---

Fits large ship and station

---

Data Controls:
[edit] [purge] (?)
Description
Edit
The Cyrochamber enables faster player load locations and provides a safer spawn point on any large grid it is powered to. It is best used on multiplayer servers because it will help the client load a very specific location first, speeding up the render distance and location of player's engineer.
Cryochambers are relatively cheap to build and have a large conveyor door that requires the Cryo Chamber to be linked with a powered oxygen circuit.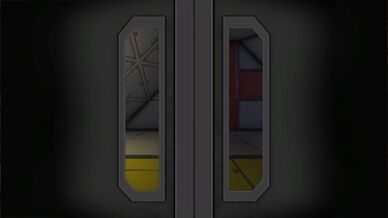 While in the Cryo chamber the player consumes less oxygen, their suit is automatically replenished from the oxygen supplied to cryo chamber, their hydrogen supply is replenished, and their suit energy is restored. Additionally, the Cryo Chamber serves as a safer place to log out, because the player's inventory and often their hotbar settings are saved. It should be noted, however, that during a log out inside a Cryo Chamber that their Engineer is still "alive" and still consumes Oxygen albeit slowly. Another critical point regarding Cryo Chambers is that if they are not personally owned by the player who created it; the hibernating Engineer inside will be thrown out and killed if another player chooses to enter the same Cryo Chamber. The Cryo Chamber does not restore health so it should still be used in tandem with a 20px Medical Room. Finally, the Cryo Chamber can be inhabited by a player when there is no power on the Large grid it is attached to, but will not kill the player until their oxygen supply has run out.
Programming
Edit
Blocks
---
Functional Blocks
Cockpits & Control


Cockpit,

Fighter Cockpit,
Control Station,

Flight Seat,

Passenger Seat,

Control Panel,

Button Panel,
Remote Control Block
Automation & Communication


Antenna,
Beacon,
Camera,

Laser Antenna,

Ore Detector,
Programmable Block,

Sensor,

Timer Block
Defense

Decoy,

Gatling Gun,

Gatling Turret,
Interior Turret,
Missile Turret,
Reloadable Rocket Launcher,

Rocket Launcher,

Warhead
Energy

Battery,
Large Reactor,

Small Reactor,

Solar Panel
Maneuvering


Gyroscope,

Large Thruster,
Small Thruster,
Wheel Suspension 1x1,
Wheel Suspension 3x3,

Wheel Suspension 5x5
Mining & Manufacturing


Arc Furnace,

Assembler,

Drill,

Grinder,

Refinery,

Welder
Storage

Large Cargo Container,
Medium Cargo Container,

Small Cargo Container
Inventory Management


Collector,

Connector,
Conveyor,
Conveyor Frame,

Conveyor Tube,

Curved Conveyor Tube,

Ejector,

Small Conveyor,

Small Conveyor Tube,

Small Curved Tube
Mechanisms & Gravity Control


Advanced Rotor,

Rotor,

Piston,

Landing Gear,

Artificial Mass,

Gravity Generator,

Spherical Gravity Generator
Lighting


Interior Light,

Spotlight
Other


Door,

Merge Block,

Medical Room
---
Removed Blocks
Ad blocker interference detected!
Wikia is a free-to-use site that makes money from advertising. We have a modified experience for viewers using ad blockers

Wikia is not accessible if you've made further modifications. Remove the custom ad blocker rule(s) and the page will load as expected.