Explosives

---

Category:
Component Item

---

Function:
Component for construction

---

Mass:
2 kg
Volume:
2 L

---

Data Controls:
[edit] [purge] (?)

Explosives are a component item used in construction. If dropped in the world they will explode when shot.
The explosion radius of a stack of Explosives is 10 cm * (number of Explosives in stack), scales linearly (up to 1 km and above), and causes roughly 54% damage to a Light Armor Block. Explosives are orange and are rather compact for their punch. Explosives can be detonated from an

Automatic Rifle. They do not have to be built into a block to be dangerous. However, using a rifle to detonate a pile Explosives does not necessarily lead to linear explosion size and force. Further more randomly placing explosives may lead to server clean up removing them as a floating object. But, as an impromptu weapon and improvised explosive device, they make swift and excellent anti-personal mines.
As seen in the picture, that same pile of explosives is detonated remotely with an Automatic Rifle below.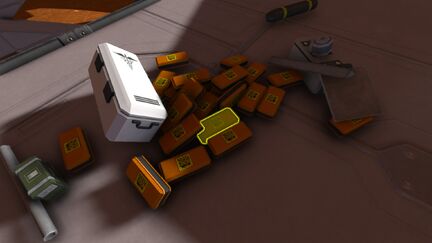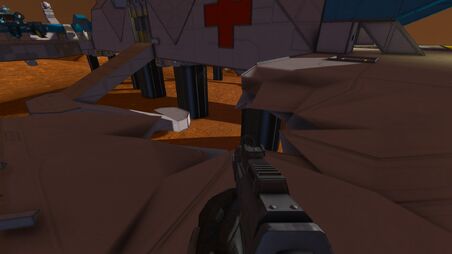 Assembly
Construction
Explosives are only required to construct one block:
Components

Bulletproof Glass,

Computer,
Construction Component,

Detector Components,
Display,

Explosives,

Girder,
Gravity Generator Components,
Interior Plate,

Medical Components,

Metal Grid,

Motor,
Power Cell,
Radio-communication Components,
Reactor Components,

Steel Plate,
Steel Tube, Large,
Steel Tube, Small,

Solar Cell, 20px Superconductor Component,

Thruster Components
Ad blocker interference detected!
Wikia is a free-to-use site that makes money from advertising. We have a modified experience for viewers using ad blockers

Wikia is not accessible if you've made further modifications. Remove the custom ad blocker rule(s) and the page will load as expected.