Hydrogen Thrusters
This article or section is a stub.

It needs more content, you can help Space Engineers Wiki by expanding it.
Hydrogen Thruster

---

Category:
Maneuvering
Status:
Functional

---

Function:
Provides thrust and/or rotation

---

Fits small ship
Mass:
Small Thruster:334 kg
Large Thruster:1,222 kg
Power:
Small Thruster: -170 kW
Large Thruster Active: -800 kW MW

---

Fits large ship and station
Mass:
Small Thruster:1,420 kg
Large Thruster:6,940 kg
Power:
Small_Thruster Active: -1.7 MW
Large Thruster Active: -10 MW

---

Data Controls:
[edit] [purge] (?)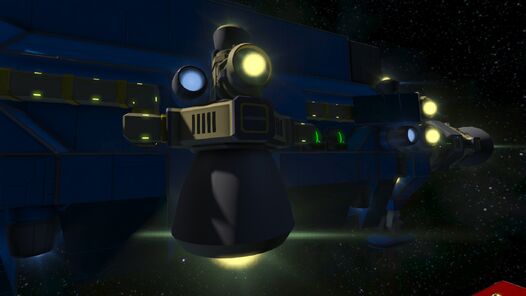 Hydrogen Thrusters are the second type of thruster to be added the Space Engineers game. They burn Hydrogen gas supplied through a
conveyor
system to propel a ship in the direction desired. As of 12/12/2016 They are the most powerful Thruster in the Thruster category, but what is gained in Newtonian
Force is expended in the supply of Ice and complexity. Because Hydrogen Thrusters need to be supplied and connected to a source of hydrogen through Conveyors, Oxygen Generators, Oxygen Tanks, and Hydrogen Tanks; the complexity they add to a ship may diminish the returns. However, the strong Force of the Thrusters makes up for their complexity and high maintenance.
Hydrogen is the most abundant element in the Universe, having only a single proton in its nucleus. It is found stars, and most gas giants. It is also extremely flammable. So much so that dirigible airships quickly and aptly swapped hydrogen gas for helium gas so as not to have a Hindenburg size explosion.
Recipe
Ad blocker interference detected!
Wikia is a free-to-use site that makes money from advertising. We have a modified experience for viewers using ad blockers

Wikia is not accessible if you've made further modifications. Remove the custom ad blocker rule(s) and the page will load as expected.