This article or section is a stub.

It needs more content, you can help Space Engineers Wiki by expanding it.
Interior Plate

---

Category:
Component Item

---

Function:
Component for construction

---

Mass:
3 kg
Volume:
5 L

---

Data Controls:
[edit] [purge] (?)
An
Interior Plate is a component item used in constructing various blocks. In particular, it is needed for structures usually found inside of ships: Interior Walls, Ramps, Steel Catwalks, etc.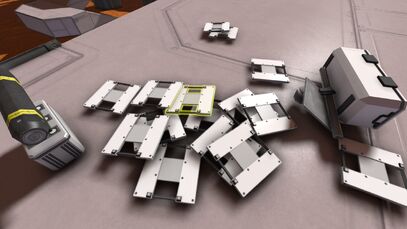 Assembly
Construction
Interior Plates are required to construct the following blocks:
Components

Bulletproof Glass,

Computer,
Construction Component,

Detector Components,
Display,

Explosives,

Girder,
Gravity Generator Components,
Interior Plate,

Medical Components,

Metal Grid,

Motor,
Power Cell,
Radio-communication Components,
Reactor Components,

Steel Plate,
Steel Tube, Large,
Steel Tube, Small,

Solar Cell, 20px Superconductor Component,

Thruster Components
Ad blocker interference detected!
Wikia is a free-to-use site that makes money from advertising. We have a modified experience for viewers using ad blockers

Wikia is not accessible if you've made further modifications. Remove the custom ad blocker rule(s) and the page will load as expected.