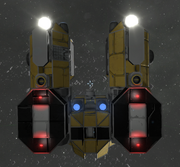 The Mining Transport is a yellow, U-shaped mining operations ship that spawns when the "Cargo Ships" option is enabled in the world options. It has two large cargo containers. It is reasonably nimble for its size, and has a very unusual landing gear layout on the front, as seen in the photo. The conveyor placement is set up for docked cargo transfer.
Capturing
Edit
Spoiler warning!
This article or section contains details about the game which players may be intended to discover on their own!
The ship is best approached from above. The upper engines and the height of the two upper portions of the ship act to minimize exposure to the turrets at the lower end. Match course and speed and then drop in from 'above' for the safest approach. Once on board, seek out the control seat, most easily found as one of the two beacon signals. Reclaim it and then activate inertial dampening. Carefully grind out the two turrets, preferably by eliminating blocks underneath them. Doing so will render the ship mostly safe.
Alternatively, the ship's two Small Reactors are visible from the outside of the ship. Approach from the back and destroy them with ship weapons to power down the entire ship.
Maneuvering systems
Edit
Defensive systems
Edit
Power systems
Edit
Cargo systems
Edit
Utility systems
Edit
Ad blocker interference detected!
Wikia is a free-to-use site that makes money from advertising. We have a modified experience for viewers using ad blockers

Wikia is not accessible if you've made further modifications. Remove the custom ad blocker rule(s) and the page will load as expected.