Conveyor Tube, Small

---

Category:
Functional Block
Status:
Functional

---

Function:
Part of the conveyor system for transporting items.

---

Fits small ship
Mass:
35 kg
Power:
20 W

---

Data Controls:
[edit] [purge] (?)
The

Small Conveyor Tube is a block in Space Engineers.
Usage
The Small Conveyor Tube is used alongside several similar blocks to link inventories on a ship or station into a network. Once established, the conveyor network allows items to be easily transferred between blocks and will automatically move items as needed.
For more information on the conveyor system, go here.
The Small Conveyor Tube functions as a compact version of the

Conveyor Tube designed for placement on small ships. It can only transport relatively small items. The following can be moved by this block:
Power
The Small Conveyor Tube requires 20 W of power to operate. If unpowered, it will not be able to transport items. However it will not draw power unless there is an inventory or full conveyor block on both sides of the tube.
Recipe
Video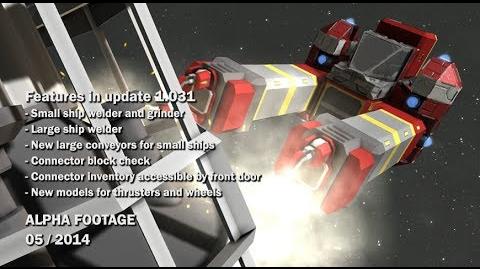 Blocks
---
Functional Blocks
Cockpits & Control


Cockpit,

Fighter Cockpit,
Control Station,

Flight Seat,

Passenger Seat,

Control Panel,

Button Panel,
Remote Control Block
Automation & Communication


Antenna,
Beacon,
Camera,

Laser Antenna,

Ore Detector,
Programmable Block,

Sensor,

Timer Block
Defense

Decoy,

Gatling Gun,

Gatling Turret,
Interior Turret,
Missile Turret,
Reloadable Rocket Launcher,

Rocket Launcher,

Warhead
Energy

Battery,
Large Reactor,

Small Reactor,

Solar Panel
Maneuvering


Gyroscope,

Large Thruster,
Small Thruster,
Wheel Suspension 1x1,
Wheel Suspension 3x3,

Wheel Suspension 5x5
Mining & Manufacturing


Arc Furnace,

Assembler,

Drill,

Grinder,

Refinery,

Welder
Storage

Large Cargo Container,
Medium Cargo Container,

Small Cargo Container
Inventory Management


Collector,

Connector,
Conveyor,
Conveyor Frame,

Conveyor Tube,
Curved Conveyor Tube,
Ejector,
Small Conveyor,

Small Conveyor Tube,

Small Curved Tube
Mechanisms & Gravity Control


Advanced Rotor,

Rotor,

Piston,

Landing Gear,

Artificial Mass,

Gravity Generator,

Spherical Gravity Generator
Lighting


Interior Light,

Spotlight
Other


Door,

Merge Block,

Medical Room
---
Removed Blocks
Ad blocker interference detected!
Wikia is a free-to-use site that makes money from advertising. We have a modified experience for viewers using ad blockers

Wikia is not accessible if you've made further modifications. Remove the custom ad blocker rule(s) and the page will load as expected.